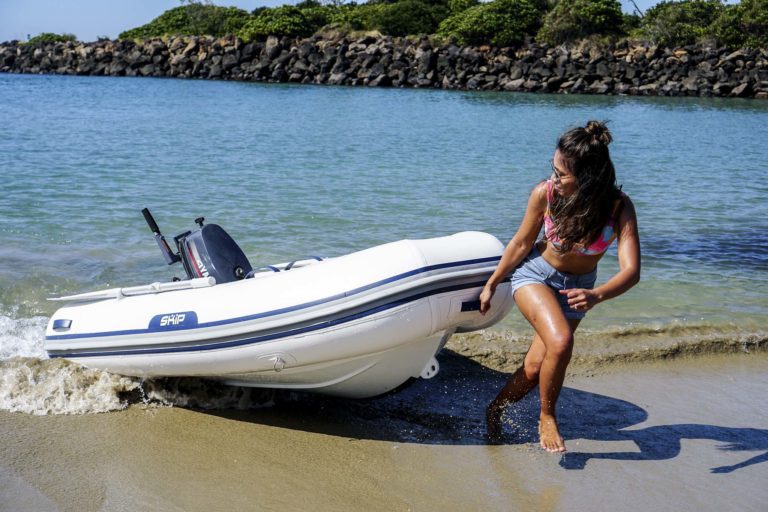 WORDS: PHOTOGRAPHY
ALUMINIUM hulls are lightweight, strong, require less horsepower 
and are durable enough for rocky shores and coral reefs.
INTRODUCING SKIP INFLATABLES:
Skip is an old Norwegian word meaning "Little Ship", our tenders are overbuilt, tough, reliable and most importantly sea-worthy. Each Skip Inflatable boat is designed and built with the best material available. The construction methods used in military and commercial vessels have been used to produce the very finest recreational tenders available.
Designed and built for extended cruises, live-aboard and high use applications. Aluminum hull tenders offer many advantageous over fiberglass such as; giving good boat speed and load caring capacity, early planning, and durable for rocky shores and coral reefs.
Our boats are constructed using ORCA® 828 which is the highest quality fabric available for RIBs. This fabric is approximately seven times more expensive than PVC inflatable fabrics and is by far the best option for hot tropical climates.
It's also the fabric of choice for professional and military grade boats and is so superior we guarantee it with a ten (10) year warranty.
Why SKIP:
ª Hypalon ORCA® 828 grade fabric tube (Pennel and Flipo)
ª Lightweight design, very easy to launch and beach, ideal for limited capacity davits
ª Oversized soft handles tested up to twice standard (ISO 6185-3kN)
ª High strength reinforced marine grade aluminium hulls
ª Full floor non-skid anti-slip deck
ª Full length rubber keel guard
ª Polished aluminium transom plate
ª Full range of sizes available
Unit 9/8 Centre View Drive Biggera Waters QLD 4216
Tel: 07 5528 8876
www.skipinflatables.com.au