WORDS: Suzanne Simonot PHOTOGRAPHY Brian Usher - www.usherusher.com
A shared love of fine design fast-tracked a firm friendship between these two champions in their field.
SUPERCARS star James Courtney lights up as his good mate, master jeweller Mark Cotterell, flips open a small case and gently hands him a set of one-of-a-kind cufflinks and a matching ring.
"Why should girls have all the fun," Mark says, grinning as James gently picks the cufflinks up for closer inspection over lunch at Sanctuary Cove's Ioesco Cafe Cucina.
James is all focus as he narrows his gaze and studies the bespoke works of art, part of Mark Cotterell Master Jeweller's signature Carbon range.
Nothing, it seems, is wasted on the Aussie motorsport ace as he pours over and praises every intricate detail of the beautiful pink gold, white gold and elaborate carbon ring Mark has been working on for him.
"Detail is everything," Mark says, as James slips the ring on his finger and breaks into a dazzling, 24-carat diamond smile.
A work in progress, the ring is a custom piece Mark has been crafting for James as part of his Carbon collection.
"It's micro engineering. A lot of jewellers are closet engineers. There are a lot of jewellers who have motor racing backgrounds," Mark says.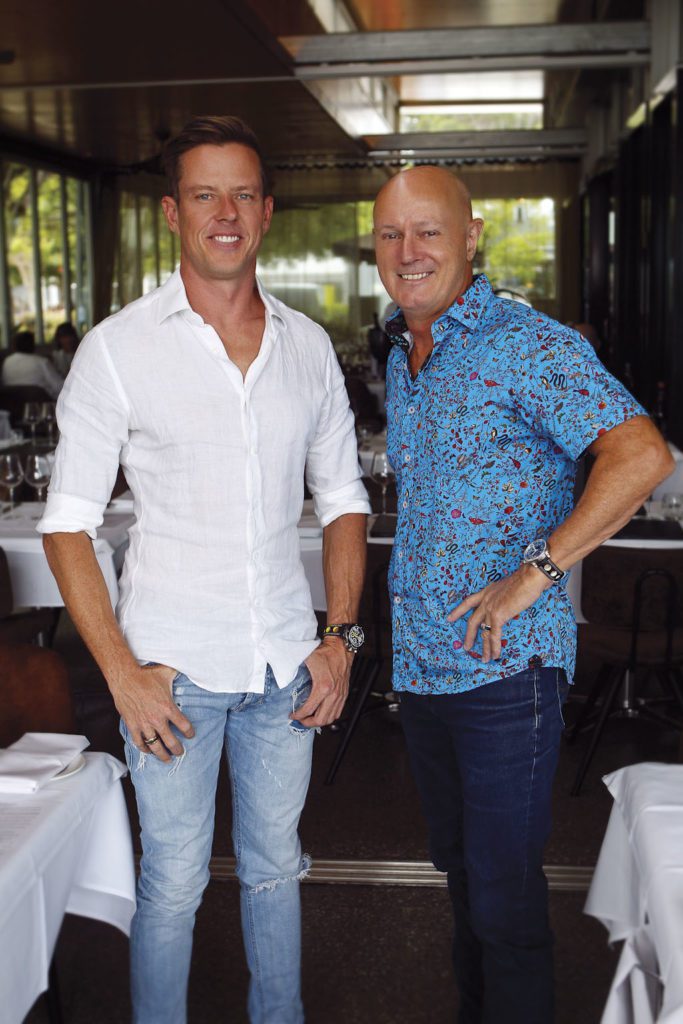 One of Australia's finest jewellery designers, Mark's signature style is based on his love of classic design elements combined with a modern, romantic charm and the unique characteristics of his clients.
Renowned for designing precision settings with the highest quality diamonds and gems framed by strong curves and lines, Mark and his team of craftsmen create his bespoke fine jewellery in his boutique in the heart of the bustling James Street precinct in Fortitude Valley. Mark's exclusive range of BRM Racing Watches have also caught James's Eye, wearing one of the latest collection as he sits down for lunch.
A motorsport enthusiast, Mark sponsors up and coming talent Broc Feeney, 18, who joined Tickford Racing for his rookie Dunlop Super2 Series campaign this year and teamed up with James in the Boost Mobile Racing Mustang at Bathurst in 2020. This year Broc has moved up to a Fully fledged Triple Eight Race Engineered drive with the backing of Red Bull and Boost Mobile among others.
"I get inspiration through being around people who are good at what they do but also dynamic personalities," Mark says.
James, who returned to this year's Repco Supercars Championship behind the wheel of the #44 Boost Mobile Mustang for his second season with Tickford Racing, has long had an eye for beautiful pieces _ particularly watches.
The Gold Coast-based father of two, who won the 2010 V8 Supercar Championship Series for Dick Johnson Racing, says he developed a love for the finer things in life during a three-year stint living in Italy.
"People know I love watches and anything a bit bespoke," James says.
"So anything that's a little bespoke and different, or tailor-made, I love. Having something different that not everyone can have is quite cool as well.
"I'm big with watches. I've got quite a few. Growing up in Europe, watches were a big thing. It was a big thing for men to have a nice watch.
"I remember when I was 15, racing go-karts in Italy, and the team boss was sort of like this God in the industry when I was younger, and he had the most amazing watch and I was always like 'wow what's that'. He started to educate me, and I ended up living with him and then the whole European way is not being ashamed of liking nice rings and watches and jewellery.
"In Europe, it's for everyone. So from a young age, I've been down that path and then when Mark and I met, we started talking about both our love for motorsport, love for nice clothes and then I saw all Mark's work and was like 'holy shit, this stuff's pretty awesome', and then we built a friendship."
Friendship was an easy fit for Mark and James when they met at a polo event five years ago.
"The first time we met, he was standing outside the polo VIP area," Mark says.
"He was sporting a mate of mine's jacket – Mark Ferguson from Wil Valor – and we struck up a conversation, and it was that easy.
"One thing we share is we're both very complicated people," Mark says, as James chuckles.
"I've had a lot on the go over the last three years personally, so it's been good coming out the other side," James says.
"Mark's helped me personally with a few things I've had … being a little older, he's experienced some of the things that I went through."
More recently, Mark and James's friendship has turned into a creative partnership fuelled by Carbon.
Mark says the two mates have been talking about James's ring – and a motorsport-inspired collection – "for ages".
"Probably five or six years we've been trying to get something together," Mark says.
"It (Carbon) started a few years ago as a one-off piece I did for a gentleman up the Coast, and then I did my ring for my own wedding, and then I went 'hey, I like this' so we're just slowly developing it over time, like a lot of our collections.
"This is an ongoing personalised collection, where the weave of the carbon is exposed. It's the same basic carbon they use in Formula 1 cars and America's Cup yachts. It's got that beautiful texture and weave that's done our way, which we did in-house.
"This ring is one I'm making specifically for James because he has small fingers. There's a top section to go on that (ring). There'll be another layer on top of it. He needs a bit more diamond and bling around it."
Mark also plans some James-inspired men's bangles as part of Carbon in the future.
"This is part of our ongoing thing," he says.
"James is very good at connecting people. As you can imagine, motor racing is full of a lot of sponsors at various levels, and this is part of our layer of showing we're not just a jeweller. This way, I can develop a men's range around a guy who has a name and is also a highly fashionable bloke – not bad looking for a guy.
"He's always worn bangles, and I'm trying to develop a bit of that as well – a high-tech, carbon avenue side of it, but fine jewellery, highly desirable and completely bespoke, much like everything else we do."
Of course, with the ring a work in progress, James has to wrest it from his finger before his lunch with Mark ends.
"Yeah – he said it as he was getting it out, before it even went on my finger," James says.
Great things take time.
Re-imagined treasures
WHILE he's best-known for his signature and bespoke lines, master jeweller Mark Cotterell also uses his expert skill to infuse old favourites with new meaning.
Mark's creativity helps clients transform their much-loved old, existing pieces of inherited emotion into their new favourite masterpiece.
"With our creativity and your existing pieces, we can recreate a new piece tailored especially for you," Mark says.
"We can provide everlasting joy to yourself in owning a new piece with the stones you've fallen in love with without the out-of-pocket purchasing a brand-new piece would incur."
Mark combines his creativity with gold, silver, diamonds and gemstones from clients' existing rings, bracelets and earrings to re-imagine them as new works of art.
For Mark, re-imagining begins with an idea.
"From idea to reality, jewellery is a journey," he says.
Clients bring their jewellery in to discuss the endless possibilities and put creativity on paper when it comes to re-imagining new pieces.
"We can redesign jewels and keep the sentiment attached to pieces," Mark says.
"Once the design is set, the true magic begins.
"We love giving a new life to an unworn piece of jewellery and turning it into something special."
Once the piece is complete, Mark offers clients free cleaning and checking to help them keep their masterpieces looking sparkling and magnificent.
"Whether it's a Mark Cotterell original piece or a re-imagined treasure, we offer free clean and check to all our creations," he says.