WORDS: PHOTOGRAPHY
Over 800 babies have been born at John Flynn Private Hospital in the last year. Another exciting new arrival they're thrilled to have on board is the only female obstetrician in private practise on the southern Gold Coast. Ocean Road went to meet Dr Genevieve Bishop to talk about the baby boom on the Coast and find out why making strong, competent mothers is so close to her heart.
When John Flynn Private Hospital welcomed Obstetrician and Gynaecologist Dr Geneveive Bishop to The Women's Health Centre last October, they knew they'd receive enthusiastic feedback. After all, being the only female obstetrician in private practise on the southern Gold Coast and northern NSW is certainly an enticing draw-card.
No one could have predicted just how quickly the positive impact of this new arrival would eventuate. Within her first two weeks on the job, Dr Bishop had successfully and beautifully delivered her first baby.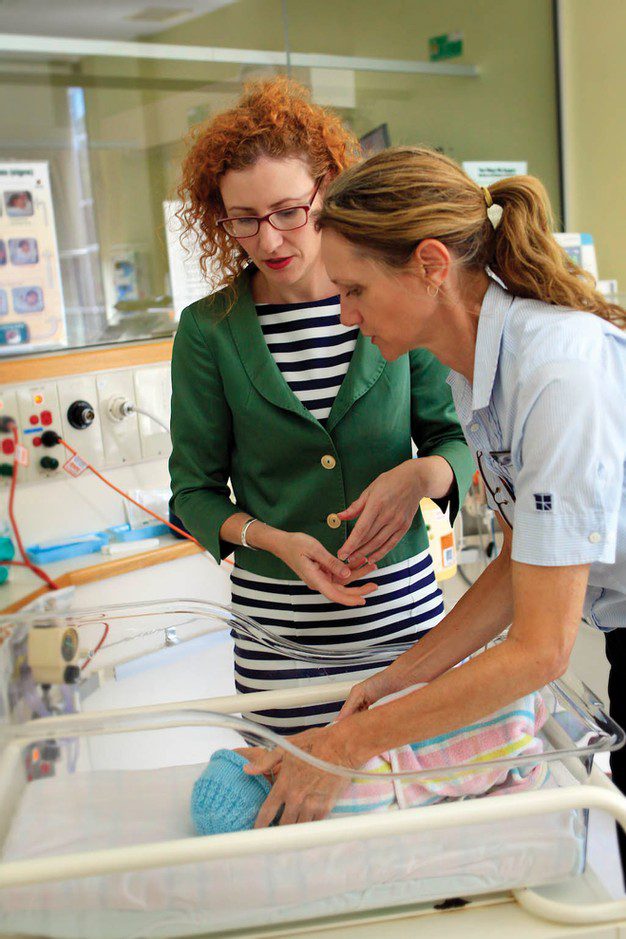 The proud woman who Dr Bishop helped become an overjoyed mother was Fiona Duncan from Burleigh Waters. At 39 weeks pregnant, Fiona clicked onto John Flynn website by chance and saw an announcement that a female obstetrician had joined. "I decided I wanted a higher level of care, happened to look at the website and made an appointment to meet Dr Bishop the next day," she tells Ocean Road magazine. "One week later we welcomed my son Kai to the world!
Initially I didn't go private because I couldn't find a female obstetrician.
"Dr Bishop is incredibly calm. I found her to be really kind and understanding while I was in labour; she wasn't matter of fact. She kept my head in the right place in the process and was very comforting during the last stages of birth. As a result, I had a beautiful natural birth. Kai was nearly 8 and a half pounds, during the delivery, her calm manner helped me push and not push at the right time. I can't thank her enough!"
It's sure to be the first delivery of many Dr Bishop can look forward to in her new role which she describes as a "dream come true". We meet Dr Bishop in her serene, welcoming office where she has a huge portrait of a baby hanging on the wall. "As part of my six years of training, I spent time at The Tweed Hospital and realised patients didn't have the option of a female doctor in private practice in this region. Having worked here previously, I'm familiar with the varied needs of the area and wishes of this community in their approach to care.
"It's important to me that women have that choice – there are plenty of women who want the option of having a female doctor by their side as they go through this experience. The Gold Coast is a booming area of growth in obstetrics. Quite simply, there are lots of young, healthy women here having babies! I want to bring empathy and understanding to an area of need."
After achieving her Bachelor of Science with Honours in Psychology, Bachelor of Medicine and Bachelor of Surgery from Sydney University, Dr Bishop went on to attain a Masters in Public Health from the University of NSW, while concurrently completing her 6 years of specialty training in Obstetrics and Gynaecology.
Another area of interest to her is female incontinence which affects up to 37% of Australian women [*1] but worryingly, 70% of people with concerns don't seek advice [*2]. "Lots of women suffer in silence. It's socially debilitating, they stop going out and it can lead to depression," she says.
"They think it's just part of growing older but I want people to know that there is help out there. Often women feel more comfortable discussing this issue with a female doctor."
Empowering women is hugely important to Dr Bishop who talks about the importance of "making mothers strong, competent and capable". She recognises that continuity of care is central to this, ensuring women are well informed about their bodies and their choices. "I believe in a women centred approach for lifelong care," she adds.
[With patio image]
The Maternity Terrace opened on 7 August 2014.
"Often new mothers are rather shell shocked and don't want to brave world. Instead, they can come here, feel the breeze, admire the view and enjoy this as a peaceful change of scenery" – Dr Bishop
Breakout
Read more about John Flynn Private Hospital Maternity Unit, birth centre, facilities, services and arranging your stay on their website: www.johnflynnprivate.com.au or call 07 5598 9000.

[Source info]
*1 Australian Institute of Health and Welfare, 2006. http://www.continence.org.au/pages/key-statistics.html
*2 Milard, 1998. http://www.continence.org.au/pages/key-statistics.html