WORDS: PHOTOGRAPHY
Motor racing champion Tony Longhurst has shifted focus from supercars to superyachts and has continued to set records with the construction of Australia's most innovative, five-star 'superyacht resort'.
Legions of motor racing fans know him as the two-time winner of the Bathurst 1000 who went on to race internationally and take several crowns in the touring car circuit, but there's a lot more to Tony Longhurst than ex-racing champ and car connoisseur.
Today, as owner and driving force behind the evolution of The Boat Works, ​located in the heart of the Gold Coast Marine Precinct, Coomera, Tony is as proud a Gold Coaster as they come, with a 45-year history of contributing to the way of life we all treasure.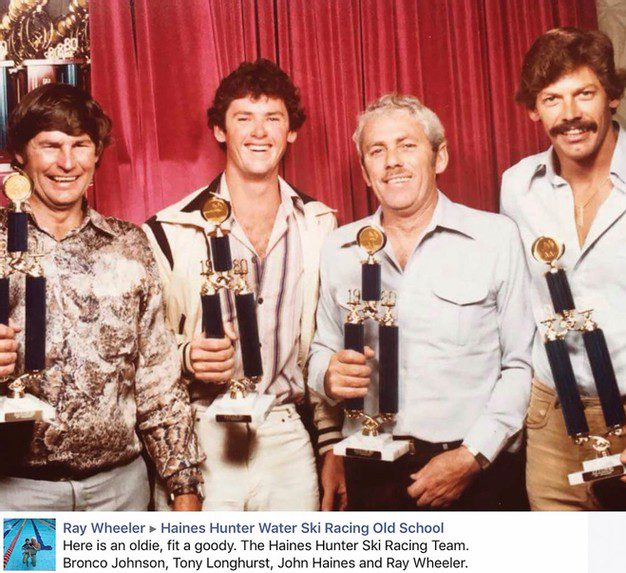 His latest venture, the state-of-the-art superyacht refit and maintenance facility adjacent to the existing marina and shipyard, makes The Boat Works, at 55 acres, the largest of its kind in the southern hemisphere.
Building upon the evolution and success of the existing southern boatyard set the bar high for the development of the neighbouring superyacht refit and maintenance yard.
"There was increasing demand," Tony explains.
"The Boat Works is lifting 50 vessels per week, each of them creating labour and livelihoods for the region's suppliers, and the boats keep getting bigger.
"So we acquired the neighbouring land and over the past 12 months created a landmark piece of infrastructure for southeast Queensland — a dedicated superyacht refit facility unlike anything ever seen before in Australia, or the world."
Tony is the kind of 'sleeves-rolled-up', hands-on visionary reminiscent of a different era. He was raised in Sydney's south, surfing, water-skiing, and making the most of the coastal lifestyle. His dad, entrepreneur, boatbuilder, and developer John Longhurst, was a major influence and, at 88, remains his staunchest ally and mentor.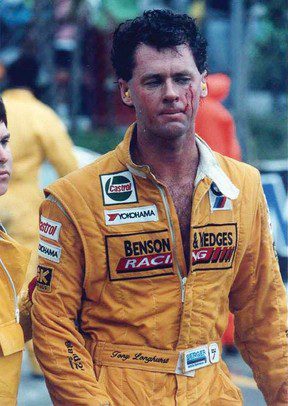 Growing up amid this energy and ingenuity, Tony set his sights on his own path to prosperity. He and brother Rodney, who since 2012 has been at the helm of Riviera Motor Yachts, neighbouring The Boat Works, were carpenters by trade, equipping them with the practical tools for jobs for life — or, in Longhurst parlance, to build an empire.
It wasn't all work and no play, but even when Tony was engaged in leisure pursuits, it had to be fast and competitive.
At the age of 18, Tony set the Australian water-ski speed record, whipping across the water at 201km/h. To this day, his name is on the record books for fourth-fastest speed. In the late 1970s, John Longhurst returned from a trip to the United States with plans for his most ambitious project yet — creating Australia's first theme park, Dreamworld.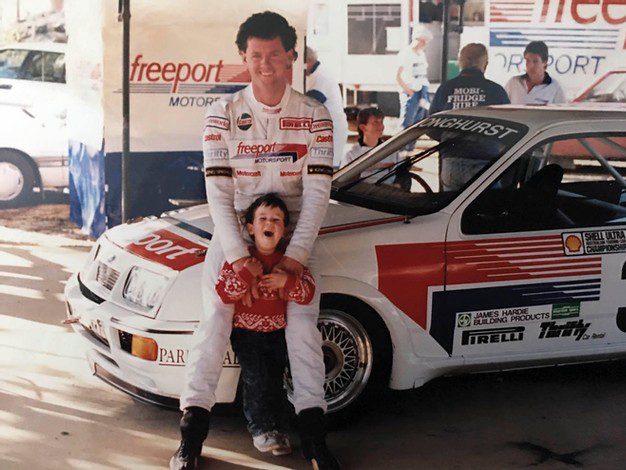 "Dad saw how Disneyland captured the imaginations of families from all over the US and the world, and he believed it could be done here," Tony says.
"So he bought a 160-acre parcel of bush at Coomera. There was neither red tape nor resistance in those days. The Council endorsed it, and it was a pleasure to build."
Alongside his dad, Tony was on the tools bringing his vision to life and, in the process, building a Queensland landmark and award-winning Australian icon that attracts around one million visitors each year and supports a staff of 1200 — that's around 40,000 jobs over four decades.
Dreamworld opened on 15 December 1981 and instantly became the country's number one attraction and a potent driver of tourism to the Sunshine State.
"I was 18; my main memories are working seven days a week for four years, including Christmas Day," Tony says.
"It was obsessive. We were focused. Nobody could imagine what we went through to get it built. For three years, there were only seven of us on site. It was a massive undertaking. And 40 years on, our family is still investing in the area."
After Dreamworld opened, Tony's passion for speed and an inherited love of cars led him to a career in motor racing. In 1985, under the tutelage of Frank Gardner, who led JPS Racing, and Ron Meacham, who headed up BMW Australia at the time, Tony took to the track, his laser focus, stamina, and quiet determination giving him the edge.
During his 25 years as a professional driver, Tony won the Bathurst 1000 twice (racing both Ford and Holden), claimed the Bathurst 12 Hour in a Mitsubishi Lancer Evo, and won the Australian Touring Car Championship in a BMW. His career spawned epic rivalries and enduring friendships, none more so than his fellow veteran driver, Russell Ingall.
The careers of Tony and Russell, known as 'The Enforcer', overlapped during a decade when they shared a sponsor in Caltex and enjoyed a respectful racing rivalry.
Russell says Tony is "not simple to describe in a nutshell".
"In the early days, we were racing for two different teams," he says.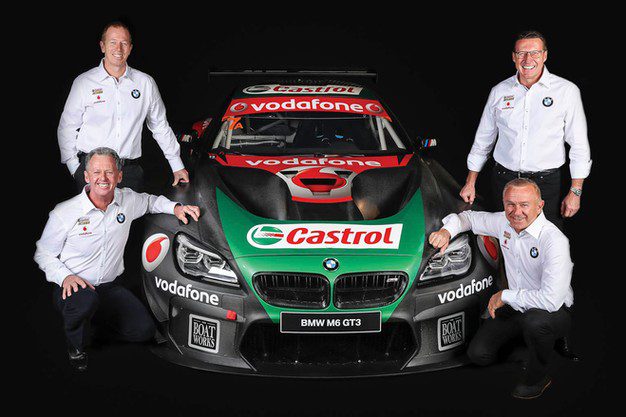 "He was a good steerer and a hard racer as well. To be successful, you have to have controlled aggression. The saying 'nice guys finish last' is never more true than on the track. If you have mates on the paddock, you haven't done your job right!
"As a driver, I probably had more aggression than tact! Whereas Tony had aggression and tact, and after the race, he'd leave it at the track. He never harboured a grudge. He left the track and switched it off and then logic took over.
"This is what he brings to his new project. He's hard on himself, works as hard as he asks others to work, he's focused, he plans down to the last detail, and has brought that same competitive spirit to building what is the best marine facility anywhere in the world."
The key, Russell says, is "discipline and forecasting".
"Successful sportspeople have the technical skills and the ability to predict what's ahead of them. When you're hurtling around the track at 300km an hour you need to predict what's ahead of you or you'll crash. Simple as that.
"Tony applies those same skills to his business and his vision for the superyacht yard. He combines technical ability with gut instinct, and he can predict what's around the corner to stay three laps ahead of the game."
Tony made the transition from supercars to superyachts in 2012, taking over The Boat Works from brother Rodney and his business partner and CEO of Riviera Wes Moxey, with the unabashed aim of creating a facility that would rival the world's best.
He hung up his helmet (at least competitively) in 2019 after his final laps around Mount Panorama in the 2018 Bathurst 12 Hour endurance race. His GT4 BMW won its class, which was a fitting finale.
"It was time," he says of retirement at 60. "I have more than enough on my hands with The Boat Works. For the past two years, I have been hands-on, 24/7, expanding and value-adding to the Gold Coast's marine infrastructure, building bigger and better sheds, expanding on our lift options, and reigniting the marine refit and maintenance offering."
The original yard was established in 1980 by Bruce 'Sharkie' Harris on 10 acres adjacent to the Dreamworld site, which at that time was cow paddocks and a collection of farmhouses and sheds, far from the dazzling lights of Surfers.
Evolving steadily over the past 40 years, the foundations were laid for The Boat Works' unique formula of friendly, efficient service and an ingenuity that consistently raises industry standards.
The Boat Works has become a magnet for sailing craft and motor yachts from every part of the globe, home to 60 boating businesses on site and a thriving hub for up to​ 2000 marine trades and service professionals.
The Boat Works' difference is an old-fashioned formula sorely missing in today's digitised world. "Our people deliver personalised service," Tony says.
"We won't be beaten on price, we go the extra mile, and it's without a doubt the cleanest yard in the world. Every single person here is passionate about the boating lifestyle and the environment. We are custodians of this section of coastline, and we have enhanced it from the neglected land that it was previously.
"Our staff are like ​family, and we extend that warmth to everyone who comes here. We have a great culture and that attracts customers and visitors."
What makes The Boat Works unique is the combination of high-quality service, knowledgeable staff, impeccably clean ensuites and free laundry facilities, The Galley restaurant, Café Twenty5, and a car museum that showcases automotive history in dozens of vintage, classic, and prestige cars. ​
Heralding a new era in tourism in southeast Queensland is the next phase in The Boat Works' evolution, one that capitalises on the Queensland Government's Superyacht Strategy, which recognises the value of visiting vessels to the Gold Coast, coupled with the government's commitment to ongoing dredging of Gold Coast waterways.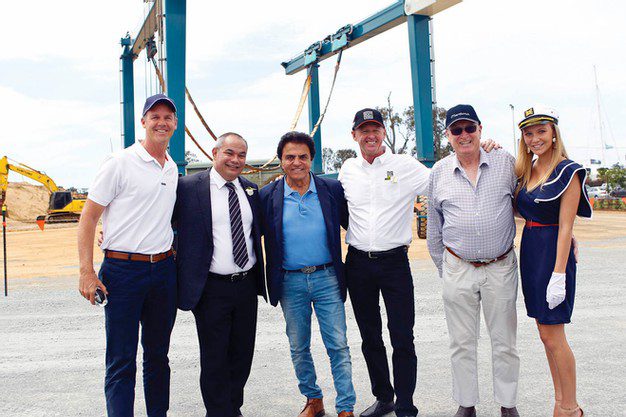 In October 2018, City of Gold Coast Mayor Tom Tate turned the first sod on Tony's privately funded $100 million expansion, literally and figuratively waving the chequered flag for a project that in just 12 months doubled the size of The Boat Works.
The new 300-tonne mobile boat hoist, named 'Rhino', is the largest on the Gold Coast, adding to the lifting power of the southern yard, which operates 70- and 100-tonne travel lifts and a 45-tonne submersible hydraulic Sealift that hauls out hundreds of wide-bodied multihulls visiting from all over the world.
The new superyacht yard occupies more than 50,000sq m of concrete comprising hardstand, storage, and superyacht sheds, accommodating one kilometre of boats from wide-bodied catamarans, motor yachts, and sailboats to superyachts — as many as 40 vessels within state-of-the-art refit sheds and hardstand.
On the water, the new marina features berthing for 15 superyachts to 50 metres, with alongside berthing for vessels up to 70 metres. The five-star Captains' Club Lounge is a quiet retreat for captains, crew, and owners, with commanding views over their vessel and the rest of the superyacht yard, perfect for meetings with project managers and suppliers.
"We have built the best slipway in the world in ​less than 12 months," Tony says.
"The superyacht yard has been open a matter of weeks and we have already welcomed 50 boats. This yard is in a league of its own in terms of environmental innovations and attention to detail."
Not content with being the largest in the region, Tony is committed to a facility that is "clean, green, and applies world's best environmental practices", including bio gardens, a sophisticated filtration system, and solar power.
Among the first vessels to berth at the superyacht yard, 120ft (36m) Sunseeker motor yacht, MY Settlement was welcomed for service and maintenance. A worldwide charter vessel, Settlement is worth a cool $30 million and has visited marinas on all continents.
Captain Glenn Woodbridge says he was blown away by The Boat Works' new Superyacht facility.
"This is next-level compared to the rest of the world," he says.
"There is nothing close to it here or overseas. I've been to most yards in the world and this is unique.
"The staff here have bent over backwards for us. We will be return customers for sure."​
But that's not all, folks. The Boat Works' final stage will consist of an exciting dining and retail space along the waterfront — with cafés, bars, boutiques, offices, and an events venue overlooking the superb vessels on the marina.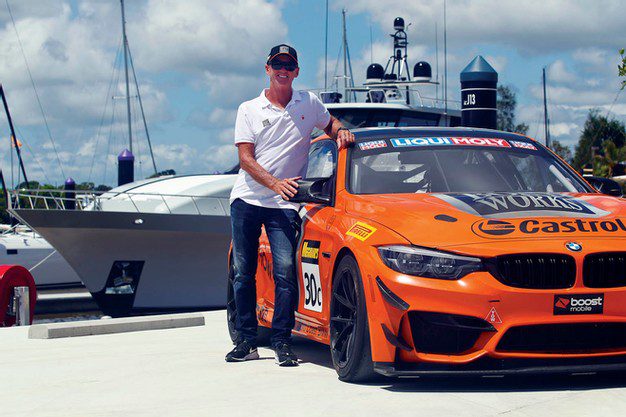 Most important, and the guiding philosophy behind the entire development, is job creation. The Boat Works' new superyacht yard is forecast to create 1000 permanent jobs and diversified businesses.
"More boats mean more jobs," Tony says.
"Not just in the marine and boating industries, but in hospitality, tourism, provisioning — all the things visitors to our region want to see and experience, as well as the projects they carry out on their boats.
"The Gold Coast will become the port of call for every type of boat — from leisure craft to larger commercial vessels — as they travel the east coast between Melbourne and Sydney and the Whitsundays.
"The whole marine precinct is energised, and there's a surge of positivity in response to the new Superyacht Legislation [allowing foreign-flagged vessels to charter in Australian waters].
"The Boat Works' new superyacht yard is the next chapter in our family's history. It's a tribute to my dad and his foresight in investing in Coomera.
"We have built, from nothing, something nobody has ever seen or experienced before. That is our legacy."
The Boat Works
1 Boatworks Drive, Coomera  | Tel: (07) 5500 0000.
theboatworks.com.au  |  @theboatworks  |  Facebook  @theboatworksgoldcoast
THE BOAT WORKS
1 Boatworks Drive, Coomera
Tel: (07) 5500 0000
Website: theboatworks.com.au
Twitter/Insta: @theboatworks
Facebook: @theboatworksgoldcoast