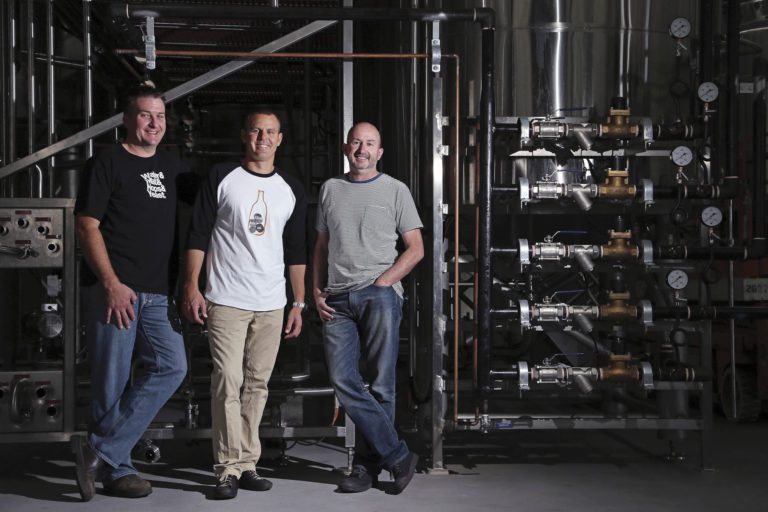 WORDS: PHOTOGRAPHY
Gold Coast favourite Stone & Wood Brewing Co. has been going strong for a decade. ORM finds out what all the fuss is about.
Craft beer has blown up over the past few years with breweries opening every week to match the demand. I moved to the Gold Coast four years ago and there was only one brewery around. Now we have five to choose from on our doorstep and even more within an hour's drive north, south, or inland to the Mount Tambourine area.
One brewery in particular that has paved the way in the local market is Stone & Wood Brewing Co. In 2018, the company celebrated its 10-year anniversary. What an accomplishment for this independent brewery.
When Stone & Wood founders Brad, Jamie, and Ross first opened in 2008 there were less than 100 craft breweries in the country. This year, there are more than 500 breweries across the nation — and more breweries means more and more options for drinkers. I'm sure if you asked your dad 10 years ago if he thought beer would have as many options as wine one day, he would have laughed. Stone & Wood has slowly grown to the size it is today by sticking to its vision and not getting too big for its boots too soon.
The guys who founded Stone & Wood worked in the corporate beer world before deciding to stop working for the man and open up their own brewery in Byron Bay. They had a vision to become the local community brewery that was sustainable, and that is just what they did.
Thousands of years ago, local communities had the butcher, the baker, the metalsmith and, you guessed it, the brewer. People relied on the brewery to bring the community together and quench their thirst. Stone & Wood wanted to get back to basics and these roots of brewing again, and what better place to open than one of the most beautiful places in the world, Byron Bay?
At first, it was a tough, long start to the brand (as in any new business), but the guys stuck to their guns and kept pushing. Fast forward 10 years and Stone & Wood is now the second-largest independent brewery behind Coopers in Australia. I'd like to reiterate, independent. Still owned by the same guys who founded the company 10 years ago, with the addition of full-time staff, it is a B-Corp accredited business with a stakeholder-focused business model, meaning that beyond profit, the company looks to add value to its communities, the environment, and the team.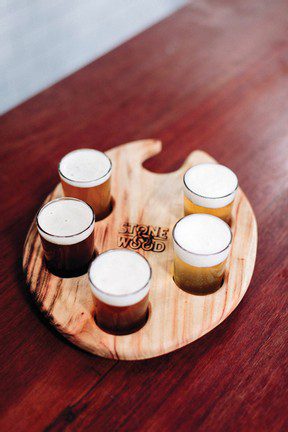 There is an arm of the business that solely looks after how to make the business better and lessen the impact on the environment, working toward as minimal waste as possible. This goes from using solar panelling, glass recycling, water recycling, and filtration systems (so water isn't wasted down the drain) to sending spent grain to local farmers for cow feed. There is more to the list, but that is just to name a few.
The company has also established the not-for-profit InGrained Foundation, which works with communities and local charities in the Northern Rivers as well as further abroad. Stone & Wood donates what it calls a 'karma keg' for fundraisers and to help raise money for a specific charity. The idea is that all proceeds from the karma keg go to the charity and in turn will bring you good karma. How great is that: drink a beer and do good (sounds like a pretty good deal to me).
The tasting room in Byron Bay also donates money every month to a nominated charity, which is one of numerous other donations the company makes throughout each year. It also gives every full-time staff member one day's leave a year to use for a 'volunteer day' in the local communities, where they help out when in need, such as during the 2017 floods in Murwillumbah where volunteers helped businesses get back on their feet.
In 2015, the company opened a second brewery in the Northern Rivers. A lot of breweries would outsource the beers at that stage and pay someone to contract brew for them. These guys wanted to keep it local and authentic. They opened up in Murwillumbah, which also provided the opportunity to hire local and work with local businesses in the area and still brew their own beer.
It's all pretty impressive if you ask me. And the best part is these guys make cracking beers that are both refreshing as well as sessionable (meaning you can have several in one sitting — especially on a hot summer's day). The company has a few beers in its range to complement one another, but the standout for most people is the Pacific Ale. Breweries all over Australia have tried to copy this beer now — they've even started naming it Pacific Ale. But Stone & Wood is the original creator of this refreshing tropical ale and I don't think anyone else has come close to copying it.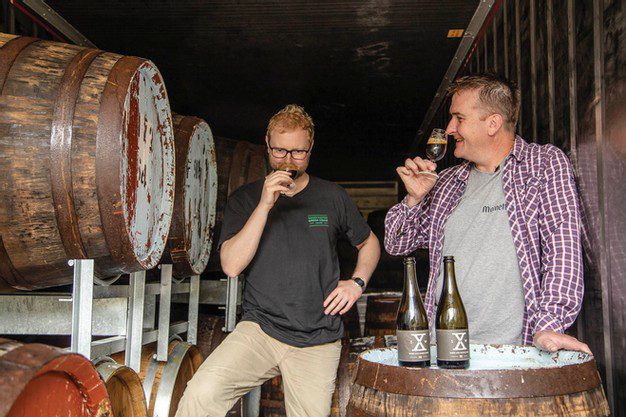 For its 10-year anniversary, the company released a limited-release Barrel-Aged Imperial Stout to celebrate. It is a big beer (sold in 750ml champagne bottles) that is meant to be laid down and opened for a special occasion, just as you would a beautiful bottle of wine. Yes, that's right, you can cellar beer just as you can wine. Its high alcohol content means it will rest peacefully for a few years to come. Founder Brad and head brewer Caolan came up with the recipe for the beer. It was aged in old Penfolds barrels for 10 months and sits at a whopping 10 per cent alcohol.
This beer is jet black with chocolate and dark fruit aromas, including raisins, plums, and cherries. There is a rich malt backbone and lingering palate that makes you want to go back for another sip. Keep an eye out on the Gold Coast in the smaller bottle shops (if they still have any available, as I assume it would sell out pretty quickly). It is a testament to Stone & Wood and the company's focus on quality as well as its position leading the way for other small breweries to get a look in the door in the market today.
The independent brewery will remain independent as the vison of the sustainable business is to keep it going for years to come. Celebrating 10 years of summers just south of the Gold Coast, Stone & Wood will also be opening its new tasting room doors in time for the new year. Make sure you pop in next time you are on your way down to Byron Bay and see what delicious brews they are whipping up.